What do people think?
Here are a few comments spread over recent years...
"We and all of our guests absolutely loved the ceilidh!! The people who had been to ceilidhs before said how brilliant it was and that the band and caller were first class! The people who hadn't been to a ceilidh before were blown away I think! Quite a few of our friends danced to every number, even the children's Hokey Cokey, as they loved it so much! David's enthusiasm was fantastic and we loved how he got everyone involved. We also loved how passionate you were about our venue in the College Valley. Without a doubt - The Castle Band made the wedding! Thanks so much!!
Becca and Greig, May 2012, College Valley
"Thank you very much for providing the music for our Civil Partnership celebration evening. We had the most perfect day and we had so many comments on how fantastic the band and caller were.
Stacy and Kirstin, March 2012, Barnard Castle
"Thanks to you and the rest of the band for another cracking night - please pass on to all concerned.
Barry, January 2012, Newcastle Upon Tyne
"Dear Colin and all the members of The Castle Band, Thank you so much for making Saturday night such a memorable occasion. We all had a wonderful night and thoroughly enjoyed listening and dancing to your band. The kindness and patience shown by David, the caller, to all on the dance floor was much appreciated as many of the guests had not had the opportunity to dance to a traditional ceilidh band before. They all had a great time and were suitable exhausted at the end of the evening though it didn`t stop them staying up till 5.00am! I have a brilliant picture of dancers during the Dashing White Sergeant which I shall send you.
Rosie, David and Daniel, November 2011, Alnwick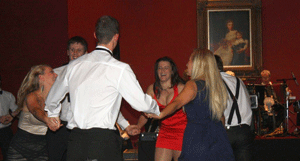 "Thank you and everyone in the band for such a fantastic evening on Friday. The band really made my 18th birthday party a truly special evening, and one I will long cherish the memory of. Ceilidh dancing was a great way to break the ice and all of my friends loved it. The band were flawless musically, and the caller David was brilliantly patient, even making those of us who have two left feet feel like we could actually dance! This is definitely the best ceilidh band I've experienced and one I would not hesitate to use again. I can't thank you all enough for a wonderful evening.
Matthew, September 2011, Blagdon
Vets' Ceilidh, January 2011, Longframlington
"It's been a while since you played at our wedding in the College Valley ... but we just wanted to write to say a huge thank you for your fantastic music which absolutely made our day . It was, without a doubt ,the best folk dance we've been to - and many of our guests said so too You really were a highlight of our wedding and we can't thank you enough."
Gemma and Owen, September 2010, College Valley
"A huge 'thank you' to Colin, David and the Castle band. After a fantastic wedding and reception the day was made complete with a ceilidh and music by the Castle Band. Music was excellent from start to finish and was thoroughly enjoyed by dancers and spectators alike (we had so many good comments from our guests). David, the caller, was amazing with his friendliness, humour and encouragement.
A special thanks to Colin on composing a beautiful piece of music for the 'happy couple'. Something that will bring them lots of pleasure and happy memories in the future.
It was great to meet such warm, friendly people who added so much to our special day. Thank you."
Christina and Paul, June 2010, Northallerton
"Thanks to the Castle Band for playing at our wedding. The band were excellent and David (the caller) was fantastic and pitched it just right. It was a really nice touch for Anthony to play a solo on the Northumbrian Smallpipes and everyone made a point of saying how good the band was. The bride herself was not a fan of ceilidh dancing before the night but the Castle Band have changed all that which is praise indeed! Highly recommended.
Sam and Jessica, May 2010, Ellingham
"We would like to thank you and all the members of the band for helping us to have a really great evening. A ceilidh is a great way to have a party and to get everyone involved, and once again the band were superb and helped to make it a very special celebration. Please pass on our thanks to all the band members."
David, March 2010, Doxford
"Thank you for making our daughter's wedding reception at Durham Castle so special. You warmed us all up on what was a freezing cold night. The ceilidh was out of this world ! I have never been to a ceilidh where there were so many people on the floor for every dance!!!!!!!!!!! All our guests raved about you. Quite a few were from the SOUTH and had never heard of a ceilidh!
Wedding ceilidh in Durham Castle
Just a special thanks to Anthony who piped so beautifully and also led the bride and groom into the wedding breakfast . Thanks again for a fantastic night to remember."
Tony and Judy, January 2010, Durham
"We just want to thank you all for playing at our wedding at Doxford. We had a fantastic time and could not have asked for a better ceilidh band. All of the guests loved it too, so thank you for making our wedding so much fun."
Fiona and Andy, August 2009, Doxford
"I think everyone had a great time - I certainly did! Thanks very much for playing so well and I appreciated David's relaxed style. He pitched it just right. Please would you pass on my thanks to the rest of the band? "
Alice, January 2008, Newcastle Upon Tyne
"Just wanted to say a huge thank you to you and the band for Zosiaís wedding. Everybody had a fantastic time and thought the band were great. It couldnít have been better. "
Mike, December 2007, Ellingham
"Thank you so much for the wonderful ceilidh at our recent wedding at the Vermont Hotel . We all had a fantastic time and it was the highlight of the day. Thank you also to Anthony for his beautiful pipe-playing during the ceremony. It added a lovely aspect to the wedding.
We have had lots of requests from guests for your contact details so I expect we will meet at future functions.!"
Helen and Richard, November 2006, Newcastle Upon Tyne
"Thanks for asking me to play last night. The best ceilidh I've ever played at! I think they all had a fantastic time. Cheers"
Shona Mooney , October 2006, Newcastle Upon Tyne (Shona was our guest fiddler for the evening and is the winner of the 2006 BBC Radio Scotland "Young Traditional Musician of the Year" award)
"Just a note to thank you and the Castle Band so much for the ceilidh at the Sun Hotel, Warkworth... The feedback we've had has been great and we all had a fantastic time. Thanks again"
Michael and Jackie, February 2006, Warkworth
"Thank you so much to The Castle Band for the fantastic ceilidh you provided at our wedding at Chillingham Castle on January 7th, 2006. You were superb and the fact that even my 71-year-old German father joined in and had a whale of a time says it all. I couldn't believe my eyes!"<
Nicole and David, January 2006, Chillingham
"I just wanted to leave a little message to thank you very much, Colin, for the gig on Saturday night, at the wedding do... We were really impressed with the band and with David. We thought it was really well judged... David did a really good job as caller...the music sounded lovely. We really appreciated the obvious professionalism. So thanks again to you for that. We wouldnít hesitate to try to get you again..."
Martin, December 2005, Newcastle Upon Tyne
"... I would like to thank you all again for helping us make last Friday such a successful evening ... Everyone we have spoken to agreed with us that the band was excellent."
Irene, October 2005, Newcastle Upon Tyne
"Please convey my thanks to all the members of the Castle Band for the superb contribution all made to [our daughter's] wedding on May 28th. We had a wonderful day helped by the barn dancing. Thank you"
Vivien, May 2005, Cresswell
"Thank you so much for your wonderful contribution to the success of our party. You were fantastic! We all enjoyed ourselves enormously. The playing, the calling, the choice of dances, the pace and the MC-ing, were all excellent. You pitched it just right and many of our guests commented on the quality. Many thanks again."
Kay and Tony, April 2005, Newcastle Upon Tyne
"Just a quick note of thanks to you all for being so fantastic at our wedding on the 24th. You set the evening off on exactly the right note, the band was superb and David did an exemplary job in ensuring a bunch of novices didn't trample each other to death."
Ian and Janine, July 2004, Preston